Product Information
How can we help?
Let's get in touch!!
Downloads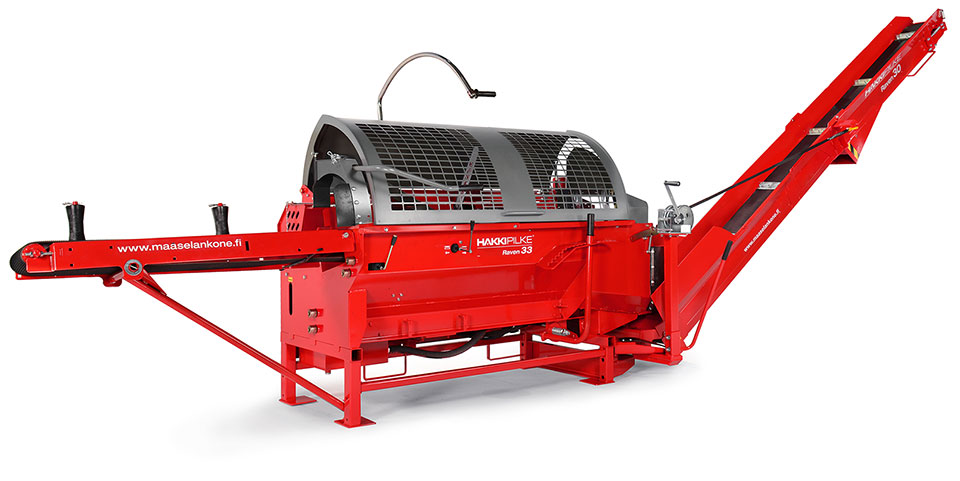 The Hakki Pilke Raven 33 is a reliable and easy-to-use firewood processor. The machine's direct drive hydraulics enable simultaneous functions with effortless motions of the operating lever. The robust structure and minimal need for maintenance ensure that the machine is cost-efficient to use. Effortless operation and sufficient splitting power enable the processor to split even the largest of logs – get ready to make firewood for all purposes with unparalleled ease.
The single-piece cover, which is linked with the machine's operation and equipped with gas shocks, ensures safe operation and easy saw chain maintenance. It can also be easily opened in the event of malfunctions. The low power requirement and weight enable the machine to be used with lighter equipment. The Raven 33 comes as standard with belt feed and a laterally pivoting hydraulic outfeed conveyor. Accessories can be used to equip the firewood processor for every need. A log lifter and various log tables can be used to reduce the work load even further. The 6-way splitting blade turns even the sturdiest of logs into conveniently sized firewood. The infeed conveyor reverse valve can be used to feed and reverse logs regardless of the machine function. The features of the Raven 33 firewood processor make it a perfect fit for shared use.
Technical Information
| | |
| --- | --- |
| Max log diamter | 13.8" |
| Max wood length | 20" |
| Max splitting force | 6 ton |
| Bar | 15" |
| Power source | PTO, electric |
| Splitting blade | 2/4 way |
| Outfeed conveyor length | 13.1' |
| Infeed conveyor length | 7.2' |
Hydraulic infeed belt
Automatic chain oil lubrication
Safety cover
Automatic speed valve
Cleaning outfeed conveyor
Pivoting outfeed conveyor
Outfeed conveyor extension 1m
Infeed serial connection kit + valve
Heater for oil
Splitting blade 6-way
Infeed guide plate
Accessory valve
Outfeed conveyor speed control
Toolbox
See the Raven 33 in Action!
View Our Other Products & Services