Product Information
How can we help?
Let's get in touch!!
Downloads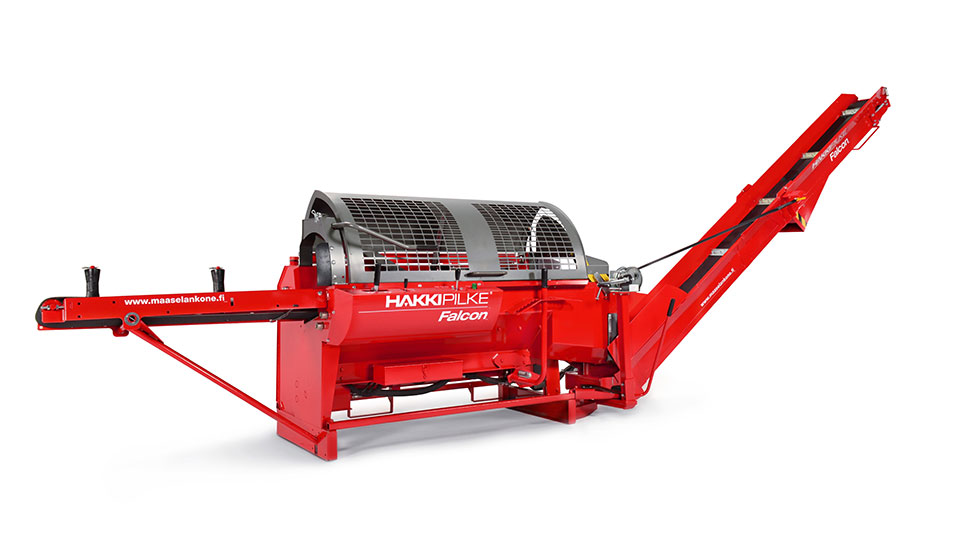 Hakki Pilke Falcon 35 firewood processor sets the new standard! In terms of its features, it is largely similar to its predecessor, the wildly popular Hakki Pilke 37 firewood processor. In its class, the machine boasts the fastest splitting on the market by far.
Thanks to the hydraulic functions (saw and conveyors), Falcon 35 firewood processor has no V-belts. The ergonomic one-hand control level makes the machine very easy and effortless to use. Safety and comfort are ensured by the active single-piece guard. An adjustable hydraulic lubrication pump guarantees a long life for the saw bar and chain. The self-filling chain lubrication pump gets its oil from a separate oil can, which is fast to replace without making a mess. A tool box similar to that of Hakki Pilke Hawk 25 has now been included in the new Hakki Pilke Falcon. The processor's open lower structure enables easy cleaning underneath. Thanks to our wide range of accessories, customers can easily customise the Falcon 35 to their liking. The machine is available as electric or combi model with 7,5 kW electric motor.
Technical Information
| | |
| --- | --- |
| Max log diamter | 13.8" |
| Max wood length | 20" |
| Max splitting force | 8 ton |
| Saw Chain | .325 1.5mm 67 |
| Bar | 16" |
| Power source | PTO, electric motor, or combinaton |
| Electric motor | 7.5 kW |
| Splitting blade | 2/4 way |
| Outfeed conveyor length | 13.1' |
| Infeed conveyor length | 7.2' |
Automatic chain oil lubrication
Active cover
Outfeed conveyor speed control
Cleaning outfeed conveyor
Tool box
Outfeed conveyor extension
Blower saw-dust removal
Heater for oil
Splitting blade 6-way
Infeed guide plate
Hydraulic in-feed roller
Oil cooler
See the Falcon 35 in Action!
View Our Other Products & Services