Product Information
How can we help?
Let's get in touch!!
Downloads
Addition Images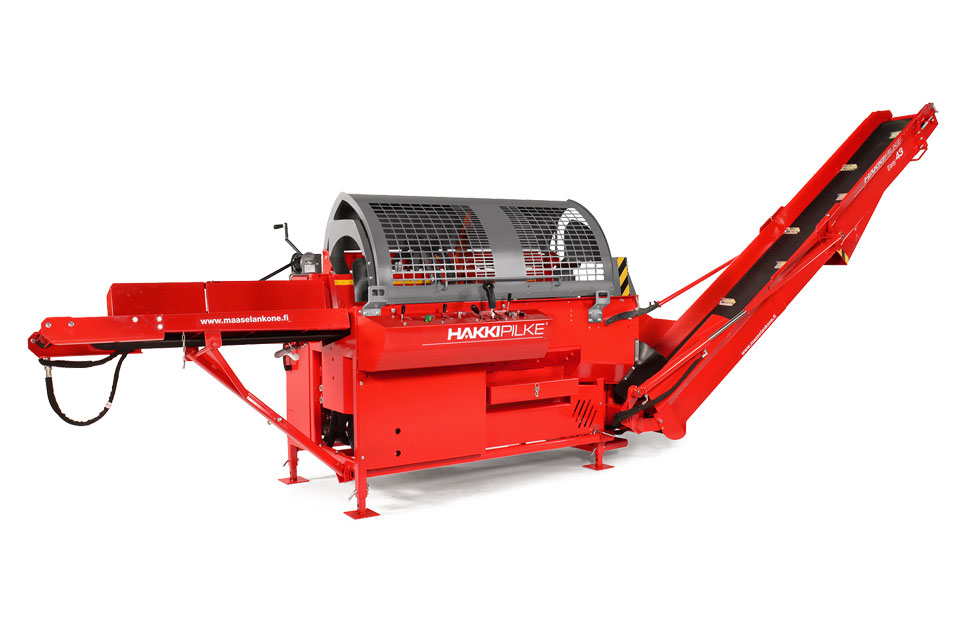 The Hakki Pilke 43 Pro firewood processor is a combination of experience and innovations. 43 Pro is an entirely new machine based on the Easy 42 model, highly regarded among professional users.
In terms of the operator, the most significant update is the user interface that provides a fully revamped user experience. HakkiCutTM sawing takes place with the press of a button and always automatically applies the optimal force. Patented hydraulic AC10 chain tensioner and automatic chain lubrication pump ensures that the saw chain and bar last for a long time and provide unparalleled cutting efficiency time and time again. User can set the feed assist mechanism to feed in logs during every splitting motion, ensuring that a new splitting action can always be activated optimally when the pusher's return motion begins.
Technical Information
| | |
| --- | --- |
| Max log diamter | 17" |
| Max wood length | 23.6" |
| Max splitting force | 15 ton |
| Saw Chain | .404 1.6mm 68 |
| Bar | 18" |
| Power source | PTO, Electric motor, or combinaton |
| Electric motor | 15 kW |
| Splitting blade | 6 way |
| Outfeed conveyor length | 13.1' |
| Infeed conveyor length | 8.2' |
Hydraulic infeed roller
Infeed guide plate
Log feed assist mechanism
Hydraulic log press
AC 10(hydraulic chain tensioner)
HakkiCutTM cutting control
Automatically optimized saw press mechanism
Automatic chain oil lubrication
HakkiSplitTM delay free splitting
Hydraulically retracted log measuring device
Guide plates for falling wood pieces
Log guide plates for controlled landing
Hydraulic swivel outfeed conveyor
Outfeed conveyor speed control(+reverse)
Cleaning outfeed conveyor
Oil cooler
Toolbox
Active cover
Outfeed conveyor extension
Blower saw-dust removal
Heater for oil
Splitting blade 2/4, 8, 12 way
See the 43 Pro in Action!
View Our Other Products & Services