Product Information
How can we help?
Let's get in touch!!
Downloads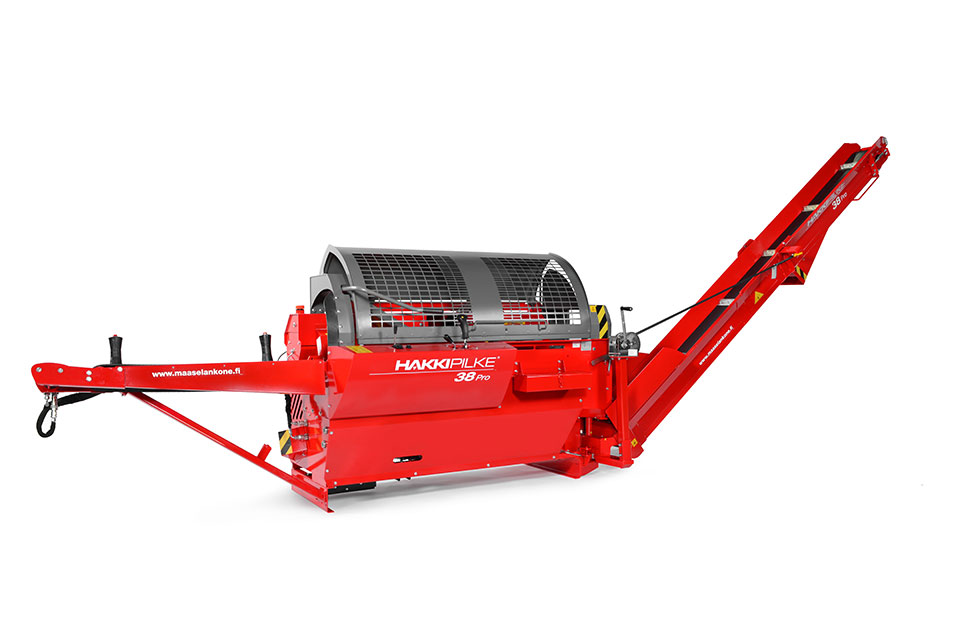 Hakki Pilke 38 Pro brings unparalleled efficiency to firewood processing. An effortless, ergonomic and efficient HakkiCutTM cutting control enables sawing with a single press of a joystick button. During cutting, the lowering speed of the saw bar is automatically adjusted according to the resistance, ensuring an efficient and fast process. At a splitting force of 10 t, the 38 Pro can split even the hardest wood, achieving a splitting cycle of no more than 3 seconds.
In the 38 Pro processor, the AC10 automatic chain tensioner functions mechanically. The patented AC10 system maintains the chain at optimal tension, improving the efficiency of the sawing process and providing a significant increase to the life span of the chain and bar. In addition to sawing and cutting, the joystick is used to adjust the height of the splitting blade and control the infeed conveyor. The 38 Pro model also features the familiar Hakki Pilke cleaning outfeed conveyor, which separates debris from firewood without any additional accessories. As a new feature, the machine also includes a control valve for the outfeed conveyor – this can be used to reverse or stop the conveyor belt as necessary.
Technical Information
| | |
| --- | --- |
| Max log diamter | 15" |
| Max wood length | 23.6" |
| Max splitting force | 10 ton |
| Saw Chain | .325 1.5mm 68vl |
| Bar | 16" |
| Power source | PTO, sm, or combinaton |
| Electric motor | 10 kW |
| Splitting blade | 2/4 way |
| Outfeed conveyor length | 13.1' |
| Infeed conveyor length | 7.2' |
Hydraulic infeed belt
Infeed serial connection kit + valve
Accessory valve
Safety cover
AC 10(mechanical)
HakkiCutTM cutting control
Automatically optimized saw press mechanism
Automatic chain oil lubrication
Hydraulic splitting blade adjustmen
Automatic speed valve
Pivoting outfeed conveyor
Outfeed conveyor speed control + reversal
Cleaning outfeed conveyor
Tool box
Outfeed conveyor extension
Blower saw-dust removal
Heater for oil
Splitting blade 6, 8-way
Infeed guide plate
Hydraulic pivoting outfeed conveyor
Oil cooler
See the 38 Pro in Action!
View Our Other Products & Services